Change Credentials
Last updated
Change the password for a company.
To change the password for a law firm or vendor's administrator account, click the Change Credentials hyperlink in the Application Administration | Firms & Vendors sidebar.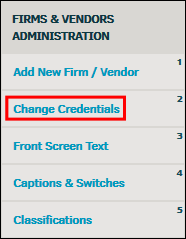 Select the law firm or vendor from the drop-down menu and click Select.
A list of individuals, both active and inactive, associated with the law firm or vendor appears to the right.
Click the individual's name or the icon to type a new password into the text boxes.
A green icon
shows up under the entered information if the password was successfully updated. If a password does not meet the security rules as listed, the password is not saved and you receive a notification under the password text boxes indicating the cause of the error.
Note: This function only allows you to reset passwords for the designated administrator account of a law firm or vendor. It is up to the administrators themselves to manage all employee passwords for their own law firm or vendor account.