Editing Document Classes and Class Groups
Last updated
Classes and class groups are similar to Matter Types and Legal Sections:
Configuration is done at the class level, which is equivalent to Matter Type in eCounsel
Class group is a group that contains classes and is equivalent to Legal Section in eCounsel


Each document class (aka Type) has its own properties that can be modified only for that class. The Vault uses the same properties for all document classes except email; email has extra fields to capture email-specific metadata.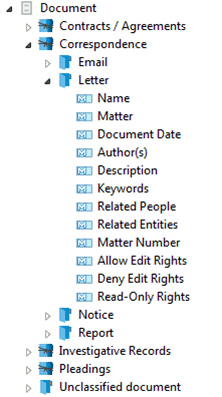 Tip: To save time and effort during configuration, add classes by renaming an unwanted class or coping an existing class.
To create a new class:
Right-click the Document Object and select New Class.

Set the properties.
To re-order the fields in a class, drag and drop the fields in the navigation pane.