File Room Switches
Last updated
The File Room Switches hyperlink in the Application Administration | File Room sidebar allows site administrators and super users to set preferences for the File Room.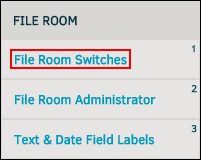 Use the buttons to turn the module on, include sub-folders, create new folders automatically when a new matter is added, close all files when the "date closed" field is populated for the matter, and add new files and folders to the print list automatically.
Deprecated items have been removed from Lawtrac 4.1. Customer support at Mitratech can assist with solving any problems this may cause.
| Switch | Function |
| --- | --- |
| Create file & folders when new matter is added. | When a new matter record is created, a file named after the matter is automatically added to the Files & Folders page of the record. |
| Close all files when matter date closed is populated. | When a matter record is closed, all associated files and folders are closed as well. |
| Use sub (third level) folders. | A folder may contain more than two levels. |
| Add new file & folders to print list automatically. | File and folder information is included in matter record printables. |
—Feature has been turned on
—Feature has been turned off