Delete Budget
Last updated
Delete a budget by budget number or firm.
The Delete Budget hyperlink in the Finance Options sidebar under Budgeting allows administrators to locate a budget by number or firm name and delete it.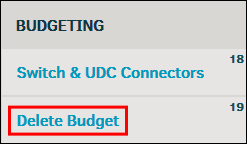 To delete a budget:
Type the budget number or firm name into the text box.
Click Look-Up. Characters are not required to generate an outcome, but do narrow the amount of search results.
Click the checkbox to include approved budgets in the search.
Select a budget by clicking the radio button to the left of the budget number.
Once a budget has been selected, a Delete Selected Budget button appears at the bottom of the list.
Click Delete Selected Budget to confirm.
Note: Budgets must deleted one at a time. There is no way to undo a deletion.