Zoomee - Error Report
Last updated
Zoomee Error Reports can be downloaded by navigating to Left Menu > Reports >> Manager/Partner Reports > Gov Notice Update Log (at the very bottom of the page).
Step 1: Select Reports from the left menu.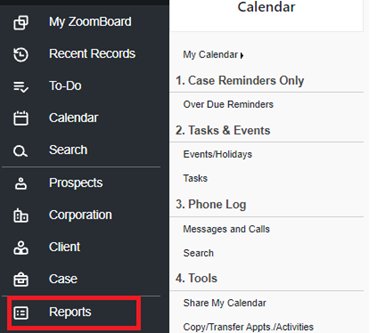 You will be directed to the Reports 3.0 landing page - Partner / Manager Reports Section
Step 2: Scroll down under the Partner / Manager Reports section and select the Government receipt notices log report icon.
The Gov Notice Update Log page will launch in a new window. Under the Notice log section, it will display all Successful logged receipt notices.
Step 3: Select the Error Log tab to access Errors files reported by zoomee while processing receipt notices.
Use the filter to refine the error list by Document Name, Error status & Error from & Error To date rage. You can also view reports with error details for the selected date range/ Document type.
You have the option to export results to an excel spreadsheet, select the Export to excel button on the right corner
Error Description will provide the reason for which Zoomee was not able to process the files. This will happen when a Case, client or Corporation is not created and also when a duplicate client or Corporation is found
Once all the errors are rectified, please send an email zoomee@mitratech.com to process error file again.
Note: If you manually update the receipt details after updating/deleting the Case, client or Corporation, the error Log files will continue to reflect in the report, hence it always recommended to only rectify the entries and inform us to process the error files.