Tree View: Device Selected
Last updated
Select a configured Device from the tree view.

When a Device is selected in the tree view, the Available Depots are listed in the centre pane. Select a Depot to see the Depot's General Properties listed in the pane on the right – see "Properties (Depot)".
Refresh Button
Refreshes the information in the Available Depots pane.
View Button
The View button changes the way the Available Depots information is displayed.
Large Icon
The available Depots are displayed as icons.
Details
The details of the available Depots are displayed.
Tile
A Depot configured with Free allocation has the following tile.
Details are listed in the following order:
Depot name.
Allocation type: Free, Fixed or Percentage.
Depot size (Not Specified is shown when the Depot allocation is configured as Free).
Date created.
Free space.
| | |
| --- | --- |
| | Note: When several Depots are configured as Free on a single Device, they will all display the free space on the Device. For example, consider a Device with 10 GB free space. If Device has three Depots, each configured with Free allocation, all three Depots will display 10 GB Free space. |
Edit Depot Button
| | |
| --- | --- |
| | Note: The Edit Depot button is active only when a Depot is selected from the Available Depots pane. |
Select a configured Depot and click the Edit Depot button. The Edit Depot pane is displayed.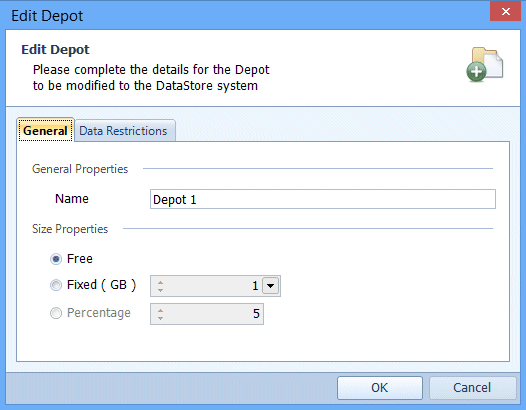 The Depot properties are displayed. On the General tab, the Depot name and the Depot size properties can be edited. See Table 140 "Terminology: Add New Depot – General Tab" for details.
On the Data Restrictions tab, any of the settings can be changed. See Table 141 "Terminology: Add New Depot – Data Restrictions Tab" for details.