Index Fields
Last updated
The Index Fields view shows the Index fields for the selected document.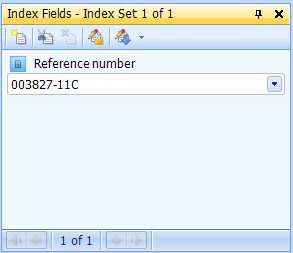 The buttons on the Index field mini-toolbar are shown below.
New Index Set – see "New".
Clear Index Set – see "Clear".

Delete Index Set– see "Delete".
Configure Values View – see "Configure".
Cascade Values – see "Cascade".

When a field has an Index Assistant configured, the Index Assistant button is displayed beside the field name.
Click this button to populate the field with the Index Assistant value.