View Budget Requests
Last updated
One of the places where budget requests appear is your Collaborati homepage. That page shows a block of up to ten of your pending budget requests (requests which have not been submitted), sorted by earliest due date.
You can also view budget requests for a specific client when you click a client's name and select the Budgets icon in the left navigational bar.

If you need to view a list of budget requests for all clients, or use a custom search, hover on Budgets in the top menu bar and choose "Budget Requests". A list of budget requests appears.
Budget requests are paginated, and users may configure how many results appear per page. To set a specific number of entries per page, use the drop-down menu at the bottom of the Budget Request table.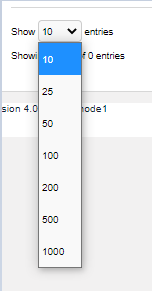 Each budget request has a Status. The possible Status values, and their meanings, are:
Not Submitted -

You have received this request from a client, or you have created a new budget request yourself; but you have not submitted it (sent your cost estimates to the client) yet.

Pending Client Retrieval -

You have submitted this request, but the client has not received it yet.

Pending Client Approval -

The client has received the request that you submitted, and is reviewing your cost estimates.

Approved -

The client has accepted your cost estimates. This budget request is complete.

Rejected -

The client did not accept your cost estimates. This budget request is available for further review and editing by you, after which you can resubmit it.

Canceled -

The client canceled this budget request. No further action is required of you.
To learn how to view or edit the details of a budget request, see How do I edit and submit a budget request? To produce a different set of search results, see How do I search for budget requests?