OLD Collaborati LEDES File Error: Nothing found to display
Last updated

Resolved in Collaborati 4.5.1 Patch 1
About this defect
This defect was introduced in Collaborati 4.5.1 due to some changes in how Collaborati processes invalid characters. Release Notes here
This defect only affects LEDES files where one of these conditions exists (see example screenshots below):
Invoice Description is blank
Line Item Description is blank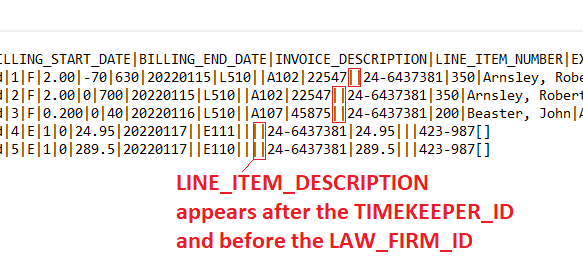 Next Steps
This issue has been sent to Engineering to be fixed. Note, it may take a few days to fix the defect. Please use the solution below until the defect is fixed.
Workaround solution
The LEDES file should be updated so that valid text (such as "Invoice" or "Services") is entered in the following fields in the LEDES file:
Invoice Description of each line item
Line Item Description of each line item
Invoice Description for LEDES XML files