Support for Add Attachment from Library
Last updated
This is a new enhancement in the CMO mobile application which allows the user to upload documents of any format (docs, pdf, excel etc.) from mobile library (gallery) for Events, Findings, Actions and other modules where a document attachment is supported. Earlier the mobile application allowed attachments like audio, video and images.
1.1 Steps to Attach A Document
Go to mobile Home screen.
Click on any module. E.g., click on Actions module.

Click on any action from the list of actions available.
An Edit Action page appears.
Click on the attachments icon. The mobile screen shows all files images, audio, video and documents.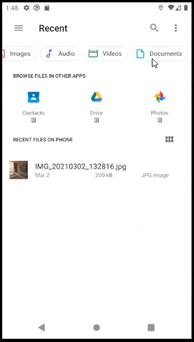 Click on Documents. List of document will be available on the screen. Select a document from the available list to attach the document.