How to stop a Scheduled event from creating future events in the system
Last updated
Goal - To assist the user in editing the scheduled event in the system such that no future events are created for that schedule.
As a result of the changes made in the steps given below, no changes are made in the events that are already created in the system as part of the schedule.
Begin by logging to the CMO Application.
Go to Events/Audit Module.

Go to the Original Scheduled Event for which no future events are required in the system. Click the cogwheel >> Edit for the Original Scheduled event.
Go to Interval in the Edit window.
In the Schedule Interval pop up window, for 'Range of recurrence' click 'End by' option and select Today. Click Ok.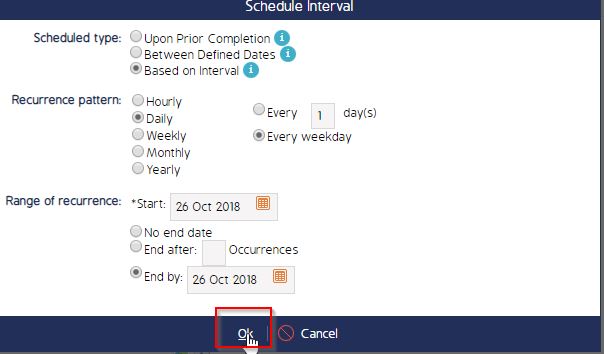 Once done, click Save in the Event Edit window.
The above given change will end the Schedule of the Event and the already created events that are part of the Schedule will remain in the system.
Video Guide