Overview
This page will cover all the basics of how to create, setup and initiate a MegaSign on TAP.
When initiating a MegaSign from TAP we first need to ensure that we have a CSV template created from which MegaSign will read who to send the document out to for signature.
Thereafter we need to create validation rules for the CSV file which will dictate how the CSV file is read and intepreted by MegaSign, ultimately telling MegaSign how to send out the document.
Below are the steps on initiating a MegaSign from start to finish, followed by instructions on how to set up both the CSV template and the CSV validation rules.
MegaSign: Step-by-Step
Steps to follow:
Create CSV template
Create CSV validation rule(s)
Re-open MegaSign
Select department (based on rules)
Choose Adobe eSign account to send from
Click "Continue"


Selecting the department and eSign account

Upload CSV to select who the doc is being sent to
Upload the doc to be sent
Enter Document Name
Choose other applicable options (checkboxes etc.)
Click "Send" to send out document for sign
.
.
Uploading the CSV file & document to be signed, as well as providing a name for the document and attaching other settings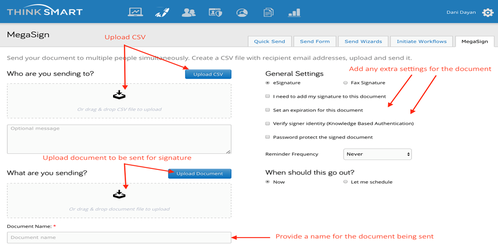 3. CSV Templates
Columns
Represent each form element and are used to create signer fields, add comment fields for each signer, etc.
Multiple signers are assigned to a single doc using multiple columns, one for each signer (e.g. _es_signer_email ; _es_signer_email1 ; _es_signer_email2)
NOTE: Names of each column need to match criteria for Repository (i.e. can't start with numbers, no special characters allowed, letters and numbers only, allows underscore to be used to create spaces)
Rows
Represent each document to be signed
Signers on the same line will all be signing the same document
Signers are indicated in ascending order (i.e signer 1 will be first signer column, signer 2 will be next column, and so on) and each signer will be notified once the previous signed has signed the document
NOTE: MegaSign is used to send a single document to multiple signers, but we can have multiple copies of the same document sent out represented by each row
NOTE: Cells have an upper limit of 200 characters
Example of CSV Template ready for upload
4. CSV Validation Rules
.
• Rules tell MegaSign how to read the CSV file
• Validation rules are necessary for first time sending - we only need one rule to send a document, but can add multiple if needed
• Rules are created for columns that particularly need rules - not necessary for every single column
• Rules are determined at Department level
Notes:
• Column Name – copy this from the CSV file to exactly match the header of the column to which the rule applies
• Common granular rules: Header is mandatory (required field), value must be non-empty (i.e. filled), email format (data validation)
• Once rules have been set up we can begin to send our document to multiple signers
.
.
Setting validation rules to ensure the CSV is read by MegaSign correctly