INSZoom - Change Sponsor and Beneficiary in Forms
Last updated
This article will guide you on how to change sponsor and beneficiary in forms
Change Sponsor and Beneficiary in Forms
Follow the below steps to change the sponsor and beneficiary in the forms when you find that a form was completed with the wrong Sponsor/Beneficiary details.:
Navigate to the 'Case Info' and choose 'Forms' under the 'Document Assembly'.
On the next page, you will see a list of forms added to your case, select the form you wish to edit.
On the forms page, you will see "Stakeholders" on the right menu.
Update the Sponsor/Beneficiary accordingly then click Update below the fields.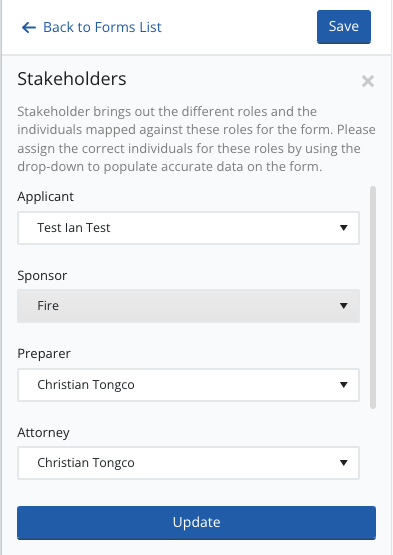 Information for the sponsor and beneficiary will be changed within the form.
NOTE: If the form was already created, you need to re-create the form to apply the changes.